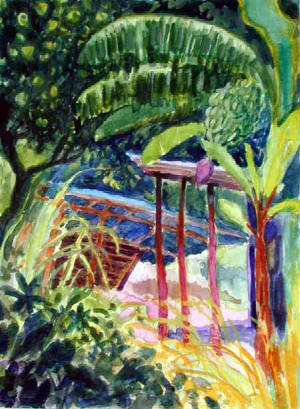 A Beach Bash to remember
Hats off to St. Croix
Logo competition
The South Florida Report
A word from the Committee leader abroad
Reunion tips
A Beach Bash to remember
Well done Thibaud community for organizing and executing an amazing event. This was just a sample of what to expect at the Thibaud Reunion 2008.
The Thibaud Reunion 2008 Committee hosted a massive Beach Bash this May Day. The participation was great. Villagers as well as those living outside of Thibaud were in attendence. Drinks and barbeque were both sold out. There were also lots of roasted plantain, codfish, bakes, acra, pelau, among other food items. Activitives included boat rides, kayaking, drinking competition and music.
According to The Committtee's leader, Mrs. Theresa Royer, the event was one of the most successful to date. She further went on to say that "the reunion is on it's way and it is already creating unity among the villagers, their particiapation and generousity is just amazing". Mrs. Royer went on to say that all the goods sold at the Beach Bash were donated, and the volume was great. For example Mr. Lipson Massicot and Roger Canoville supplied over 10 bunches of plantains which were roasted and sold.
The Villagers also completed the cleaning of the beach, which is now referred to as being "flawless". Mrs. Royer also mentioned that this is a good symbol for the villagers to be proud of, and also the hope that better things are yet to come.
Hats Off to St. Croix
Welcome aboard St. Croix! We are very excited to share with you that Thibaudites in St. Croix have formed a Reunion Committee, and are already planning fund raising activities. The Committee has named officers as follows:
Cordinator, Merlyn Massicott
Assistant Coordinator, Janoel Massicot
Secretary, Matilda Gilbert
Treasurer, Hubert Alexander
Public Relations Officer, Hector Alexander
Chaplain, Eric Memrol Massicot
They have held 2 meetings so far, one on April 14 and the other on April 28. Both meetings were held at the home of Merlyn Massicott, with a great turn out and they have indicated that they want to continue to hold monthly meetings. Some of their creative fundraising ideas include; collecting a $15. monthly meeting due from those in attendance, collecting donations from people as well as organizations, they are also planning a huge gospel concert on August 18th, where they intend to sell food and drinks. The concert will headline one of St. Croix hottest gospel artist and gospel DJ, Ernice Gilbert a fellow Thibaudite. He will be showcasing his new record "Cutting Deep - the Intaglio Project" check him out at myspace.com/ernicegilbert
We are very pleased that St. Croix has taken the initiative to organized themselves, and are very excited about their participation in the Thibaud Reunion project. They are also considering many projects that they would like to contribute to or take on. Mrs. Merlyn Massicott indicated in a recent conversation "We here in St. Croix are very proud to be part of the Thibaud Reunion. We are all very excited and can't wait to make our contribution." She went on further to say that "Our team is very dedicated, as well as the entire Thibaud Community here in St. Croix. Some of those who could not attend both meetings have called me for updates and this is very encouraging."
If any one would like to contact Mrs. Merlyn Massicott, she can be reached at merlynmassicott4@hotmail.com.
Logo Competition
We have a few logo designs that we would like you to vote on. Please click on the link or visit the Logo Ideas page to view the samples the logo with the most votes will be used throughout the reunion.
South Florida Report
According to the Secretary of the South Florida Committee:
"Sunday, May 6 the South Florida Community held their third meeting. The turn out was great as expected. The people are ready to work. Numerous topics were discussed as well as projects that will be undertaking. One project that is carefully being considered is a project called "EXTREME MAKE OVER" Thibaud style.

The next Fundraising will be held on Memorial Day Weekend, Sunday May 27th , 12p.m. until. It will be held at the home of Magorie and Delford Paul @ 2449 Rodman Street, Hollywood.

We would also like to extend an invitation to anyone else who want to support the reunion committee here of South Florida. If you have any questions or ideas please email me : Tessa IPAUL2@FAU.EDU
Thank you"
Ms. Tessa Paul
Secretary of the South Florida Committee


A word from Trevor Victor
As it stands we are well on our way to making this reunion a great success. We must continue to be motivated and to motivate everyone we encounter during our everyday movements. Guess what, the Florida Team is well on their way sponsoring quite a few projects such as Children's Christmas Party
Home for worthy family based on need and Combined Community project by all committees
Listed on the website are a number of projects identified by the reunion executive committee that are still pending. To enlighten our city committees we have updated the website with new information so everyone is aware of where we are heading. People of Thibaud decent we have a beautiful village to turn to one day in the future and say "I remember a few years ago when I helped contribute to the construction of this building, that road, that family home, we help this young man become an asset, we helped save this boy's life, we helped make this village known by hundreds of thousands". Whatever you do is never too little. Be motivated and welcome aboard. Believe it or not, the reunion is happening . We need your time, skills, ideas and or cash. Every penny counts so be motivated and call or email someone!!!!! Spread the word about the reunion. Any committee who need help organizing or need information on any reunion topic, please do not hesitate to call me. Forget about how busy you think I am, and believe me, I am very busy but I will spend 1 minute and 30 seconds with you. Call me Trevor (484) 880-6950. Let us brainstorm together.
Prospective Projects:
Reunion Village (Beach Restoration Project)
Car Wash
All Purpose Hard Court (Basket ball, netball etc)
Community Training Center Build Upstairs of Council Office
Pre-School Education Reinstatement Project
Village Expansion through New Road Construction Projects
Reunion Tips
So you have decided that December 2008 you want to attend the Thibaud Reunion. Congratulations! You and many other people will make the pilgrimage to Thibaud. Before you get there, there are a few things that you may want to consider.
Let's play genius and say that it is going to cost you approximately US$800. per person to be part of this fantastic event. I am sure some of you are bigger spenders, and may want to splurge on a few items, gala event, some souce, lots of souvenirs for your co-workers. in fact a matador doll for you boss, for giving you the extra time off. Then the average price per person will be more. Or if you are based in Guadeloupe, then this calculation definitely does not apply to you.
Well what if you have a family of four, and no one is under 2 years of age, who could qualify to get the free airplane ride, (Even though little Johnny is still drinking in a Borbor and he still uses a binky, that does not mean he is still a baby. You would still have to pay full price for him on the airplane). Then you must start saving ASAP, even before you get the time off from your boss. If you are able to put away $20. per week, you will be on your way, and it makes it less of a financial burden. Also when you receive your income tax check, hold off on buying that big screen TV, it will cost less in the next 3 years, so put some of that money towards your travel arrangements and some spending money for the Thibaud 2008 Reunion. Trust me it will be worth every penny, or pesos, or pence, or franc, or whatever form of currency you use. Good Luck!
Many of you are having sleepless nights trying to figure out how to get time off from your boss. Well, we know that you cannot use the excuse that your grandmother died. You have already used it 3 times and I think that most people have 2 grandmothers. Some of you could tell your boss that you are going to a reunion and they may be just fine with it, great! You have a very understanding boss, and you have worked hard all these years and he or she is just fine with giving some time off. Hat's off to you. However, there may be a minority of you with company policies that resemble Alcatraz, and there is no way anyone is getting any minute off during the holiday season. You may just want to try a different approach.
From now on try talking about how happy you are for your adorable sister or cousin, say that she got engaged, and shed a little dramatic tear while saying it. Be very happy for your cousin. Ask your co workers what type of gifts you should get for someone who just got engage. Remember that the cousin could live in Dominica or any where in the world, but remember the wedding has to be taking place in Dominica in December 2008.
Closer to the date , say in January of 2008 announce to your co workers and your boss that your lovely, adorable cousin or sister wants you to be part of her bridal party or wants you to attend her memorable event, or has sent out save the date cards. Let them know that the wedding is going to be in Dominica around the holiday season 2008, and you are begging to attend.
Please note that this may not work for everyone, and that some bosses are not from heaven, but from ___ , and if you have not been the best employee with the best attendance record, then do not expect to be granted time off. If you need help on getting a professional looking wedding invitation or save the date card you are welcome to contact me for ideas.
For the convenience of you and your family, I advice you to send a barrel home ahead of time with grocery and all the goodies and comfort you may need to make you stay a success. If you know that little Johnny only drinks similac formula, then be sure to send some in a barrel ahead of time. Don't wait till last minute to stuff your luggage with ten bottles of formula, making your luggage extremely heavy. You can also use the service of 800dialabarrel.com.
O.K. you have a few personal goals to meet before you get to Thibaud. Don't stress yourself, just pace yourself, don't go crazy, and try to push yourself too hard. You are going to be surrounded by friends and family, and we are all going to have a great time and make this reunion memorable. We are all family. Let's all look forward to a Great Thibaud Reunion 2008!
We all know that Dominica is a haven for those pesky little blood suckers, so prepare accordingly. Please stock up on tones of mosquito repellant such as Avon's Skin So Soft. This will make your stay more enjoyable.
Please make sure that all your travel documents are in order. With the new immigration regulations and restrictions please prepare accordingly. We would hate for you to prepare for this amazing trip and then realize 2 days before you leave that your passport has expired. That would be a disaster.
Those of you, who do not believe in communal transportation, please make car rental reservations ASAP. Remember that during the holiday season, other Dominicans visit Dominica in swarms, and they are all thinking the same thing you are thinking 'I need a ride to get around". If you have not driven in Dominica for the past 10 years, you may want to get a freshener course on some remote, meandering, narrow road, you will be up to speed before you know it.
Last poll results
Your most memorable moment at Thibaud Government School was:
34% morning assembly
27% going outside for reading lessons
23% forming a line for klim
11% scrubbing wooden desks, creating flower gardens, end of year party.
Visit of new poll and make your selection.